I have found it. My favorite photo location in the world (so far)
In Brooklyn, right at the base of the Brooklyn Bridge (before you reach the Manhattan Bridge) there are more photo opportunities than you could ever imagine. I'm sure to the locals this place is probably over used, and a little bit cliche, but it's all new to me.
You can do the usual touristy shots with the famous bridges in the background, or you can head over to the amazing (graffiti) murals, or you can just roam the streets and use one of the 10 000 different textures, and architecture combinations that are everywhere.
It kind of makes me wish I lived here.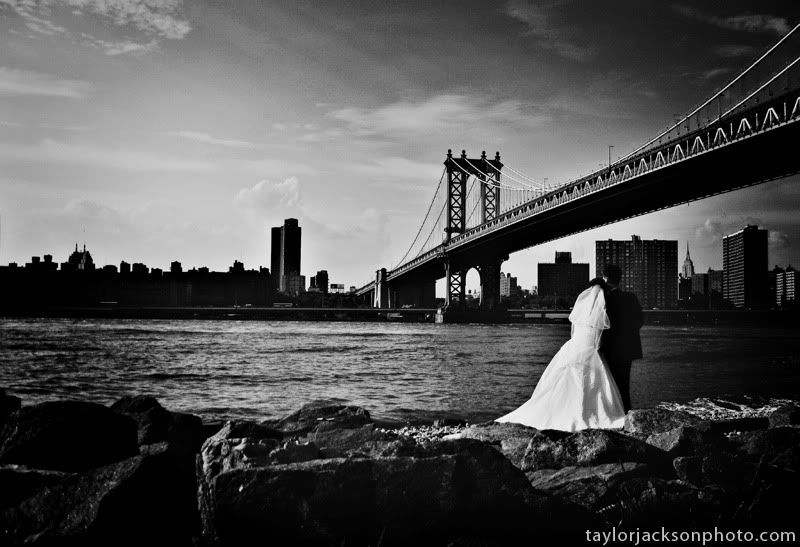 Manhattan Bridge from Brooklyn in my new favorite area.
So yah, I'm in New York City until Thursday – and the hotel we're staying at is fabulous – The Bentley on the (upper-ish) East side. A few blocks from Central Park, Rockefeller Center and all that stuff.
Yesterday we rode the farris wheel inside Toys R Us. It was epic. Then headed to Top Of The Rock – 70th story at 30 Rockefeller Center, overlooking The Empire State Building. It was wonderful. Also, if you're ever in the area in the summer, check out the Rink Bar just in front of 30 Rock. In the winter, it's a skating rink, in the summer, it's actually a pretty neat bar – almost feels like Las Vegas..except you can't drink on the street.
Word on the street is that I may be going to a Marc Jacobs party or something tonight? I'm unsure if this will happen – but it could be fun.
Anyways, I'm off to shoot some commercial stuff at Cornell Medical College. I'm interested to see how I will capture a 3D surgery training simulator on still frame 2D – but we'll make it work one way or another.
I'll post some more photos from my point and shoot whenever I get to better internet. I'm currently in the hotel lobby listening to the high-end-sports-car-driving-around-tight-corners-at-night soundtrack. I think they have every song ever used in a Lexus commercial.