There's a lot of make money from home strategies on the internet – this one takes some work. And well…you have to leave your house to take some photos, unless you have a studio, or want to specialize in product or food photography.
More or less, you're selling your photos to anyone that would want to buy them. Graphic designers to use in designs, bloggers to use on blogs, companies to use on their website. (Travelocity used one of my Las Vegas images) Or whoever else might have a need for images, but not the means, or the money to go take the photos themselves.
I had no idea one of my 4megapixel photos from a point and shoot would be featured on American Idol for a season and a half. If the image would have just been sitting on my hard-drive (Like it had been for 2 years) Fox never would have found it to use. That sale came off of a full stock website, but the same thing could easily happen with microstock.
They bought the image in the bottom right off of me, and added their logos and whatnot.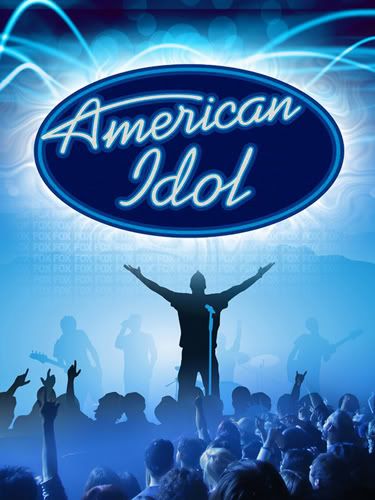 Don't expect to make a living instantly on this, but it's a nice side income that doesn't require a whole lot of upkeep to keep paying off. People download images for a couple bucks, and multiplied out over a year, it turns into a lot of money.
As long as you have a camera thats around or over 5 mega pixels(and a pretty good sensor) you're good to go.

Getting Started
So you want to make money from your photos. You don't even need a digital SLR (It will help, but let your earnings buy one for you) and you might even see your photos in books, advertisements, websites, and on TV, among anywhere else a graphic designer might use a photo or texture. I put anything I can up for sale, and let them pick what they want to buy. Some photos will surprise you.
I'll try to make this sound as un sales-pitchy as possible.
Earning Potential
Currently, I spend about 10 hours a month, and make $500+ a month on average on about 200 images that just sit there week after week – I've been doing this side of photography for 5 months. It took me a little more time to get up and going, but after that it's just income that appears in your paypal account (or by check) every month. Maybe $500 a month doesn't sound like a whole lot, but that's 500 a month, every month even if you don't do anything. And it's easy to increase your income…just add more photos. Photos of anything. You'll learn what sells best, and what sells worst. A brick texture photo I took (Yes, that's a picture straight on of a brick wall) earns me about 15 dollars every month. If it keeps selling at that rate, that's 180 dollars for the year for a photo of a brick wall. (note: sales of basic photos like this fizzle off pretty fast. If you want a photo to keep making you money all year, it has to be a little more creative than a brick wall)
You don't make a whole lot per sale, but you're making a lot more than if the images were just sitting on your harddrive.
It's amazing to earn money from something you enjoy doing. When you start to realize that you could do this as a full time job if you wanted, it's a great feeling.
First question – do you have a pretty good camera that's in and around the 5+ mega pixels range, and a couple hours of spare time every week?
Recently the stock photography business model has been flipping around. A new market called microstock photography has opened up, which is an amazing place for someone who would like to be pro to become pro.
It doesn't cost any money to get started (besides the camera of course) and you can easily earn enough income to pay for your camera (and the new camera gear you will want to buy). For the first few months I put all the money I earned from microstock back into my camera gear, and got everything I needed to get started in other parts of the photography industry.
It took some time to write this article, so be nice and sign up through my referral badges 🙂
So let's go through the big companies in the business:

Dreamstime – Approx $100 per month I started here. This was the first place to approve my photos. They are a little more relaxed with what they will and will not accept. A little bit of noise is OK as long as it's a well composed photo.
They're hard on subjects they already have thousands of, so do something different. You will learn what is approved by stock agencies here and at Fotolia before moving on to my big 2.
Fotolia. – Approx $30 a month (I haven't uploaded my full portfolio here yet)
Like Dreamstime, and excellent place to start that will continue selling for some time. They're getting bigger, and will teach you the ins and outs of the industry.
Shutterstock. – Approx $200 a month
My best seller month by month (Closely rivaled by istock). Their subscription customers are allowed to download 25+ photos a day, so you get a lot of downloads here that you wouldn't get anywhere else. They only pay 25 or 30 cents a photo, but the number of downloads you get is insane. When applying – these guys are real hard on noise. So look at your images carefully at 100% and make sure there's no grain or noise. If there is, use Photoshop or your image editing software to do a noise reduction, or blur out the little dots.
IStockphoto – Approx $125 a month
You will make the most money on your best photos here. It's annoying to use their upload system – but it helps designers find your images amazingly well. I didn't make many sales here until about a month in, but then things here started taking off.
Big Stock Photo – Approx $50 a month
Another source of income.
Starting Out
To start, I would suggest getting an account at Dreamstime and Fotolia. After you have a few images approved, you can take your best ones and apply at Shutterstock and IStockphoto. They have more difficult application processes.
Uploading.
Photoshop has a lovely feature under File > File Info. You can enter keywords separated by commas or semicolons. This saves you from copy and pasting keywords for all your files. Buyers will find your photos based on keywords. Have a search for related photos and see what they're using as keywords. I normally come up with as many as I can, then have a look at the 2 or 3 best selling photos and look for any keywords that stand out as important.
USE FTP UPLOADING!
I open the ftp:// address from internet explorer (or Firefox) and it becomes a folder that you can drag and drop into.
I open up all the ftps I'm uploading to in separate windows, and just drag all the photos into all of them. Come back in an hour, and they're normally done.
After that you'll have to log into your account at each of the sites, and put them in categories, then submit.
Some images will not be accepted, and it's annoying. Some of the images I personally think best for me, simply didn't make the technical requirements.
Have a look through best or better selling images, and see what people are doing. There are a few of people, but the majority of them are clean, clear, bright concepts.
Just start snapping, and see where it takes you(and your wallet).
Conclusion
You don't make a lot of money per sale on microstock, but it's better than not making anything. It's addictive. I was checking my sales every 20 minutes once I joined shutterstock (Your first month or two here will be amazing compared to the others.
When I first started I felt like I was giving my photos away for not as much as I thought they were worth, but now that I've been at it for a while and check total sales numbers, I'm a little bit blown away by how much I've made off some simple photos of blueprints and buildings.
After you've been at it for a little while, you'll inevitably move into real stock photography, and save your b string images for microstock. By this time hopefully you've made enough from your images to upgrade your camera equipment to near pro-grade, and getting accepted by the stock agencies will become a little easier. I've actually found them to be a little more relaxed on technical guidelines.

The Future?
I'm sure microstock is here to stay, but recently The Photoshelter Collection has launched. It's too early to tell, but it looks like a pretty good business model, and definitely something you could survive off of as a photographer if you're getting sales there.
I don't think real stock photography will totally disappear anytime soon. If an ad department is doing a multi-million dollar campaign and they find the perfect image on a stock site (because you didn't list it on microstock too…right?) they won't mind spending the $1000-$20 000 on the image. Just these sales will become a lot fewer and far between.