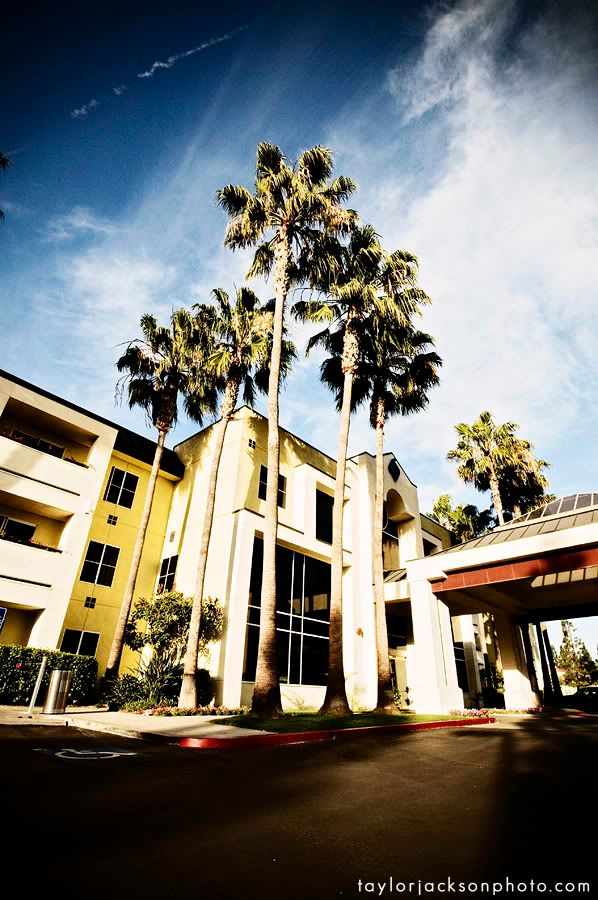 I've taken about 20 photos for myself while I've been down here — above is my hotel.
Warning: lots of text.
Quick point form summary:
It's the prefect temperature :: 20*C, and sunny.
Pretty sure we saw a liquor store get robbed – or someone was really late and decided to run home with his purchase.
There is a market for photojournalistic, artistic, corporate photography.
I met a real life Dwight Schrute. He lives on a farm, and works in sales.
Yesterday was square root day 03/03/09. The next one is 04/04/16. I learned this from real life Dwight Schrute. It was later confirmed by Kathryn, the head of marketing here.
Every time I see a sign for the 405 I sing the first few words to 405 by Death Cab in my head.
The job I'm here to photograph is all indoor photography.
The office I'm currently sitting in smells of rich mahogany.
Carl's Jr (Burger place) makes me think of the fast food vending machine in the movie Idiocracy.
It shouldn't take 5+ hours to fly Toronto – LAX. Yah, that's right, I'm complaining that a machine capable of self sustaining flight, that serves drinks, Quiznos sandwiches, and Simon Pegg movies.. takes too long to get across North America.
I thought the screaming baby beside you only happened in bad romantic comedies. It happens in real life too.
Air Canada has a spiffy touch screen seat-back entertainment system. It feels wrong watching movies for free on an airplane. I am unsure why.
Air Canada's spiffy touch screen seat-back entertainment system, has a tendency to freeze up and take 20 minutes to reboot. It must run on Windows.
Photobreak!


Downtown L.A. off in the distance. It's pretty much like this for 200 square miles.
The new(old now) James Bond movie was entertaining.
How To Lose Friends And Alienate People was great. It's no Shaun of The Dead, but it's up there. I wonder how many fish bowls of dead gold fish Megan Fox received as a result of this movie.
A can Red Bull attacked me, and I bled for a good 45 minutes.
The office building I'm shooting in is on Corporate Drive. The hotel is not on Hotel Drive.
My hotel room has a kitchen, livingroom, dining room, bedroom, and 2 tear bathroom, and it's only $130 USD a night.
I'm disappointed my hotel room does not contain a grand piano and spiral stair case.
L.A. is a lot dirtier than it appears on The Hills.
I have not seen LC (Lauren Conrad)
I think I did see Tay Zonday though. (Youtube: Chocolate Rain)
Some architectural photographers (well, at least one) still shoot 35mm film out here. Medium format..yah, I could see..but 35mm 800iso? Commonnow.
It's usually partly sunny while it rains.
I've randomly talked to 3 OC wedding photographers via email/Facebook while I've been out here, not knowing they're from OC. Wish I had time to grab lunch with them.
Seeing a roadside open-air strawberry stand that says Open January 30th, armed with a man in a short sleeve t shirt makes a Canadian mind spin a little bit. The only thing that would make cars stop roadside in Ontario Jan 30th would be a free money stand.
It's really neat to see snow capped mountains off in the distance while it's 70 degrees here.
Some of the trees are leave-less and look like they're straight out of Nightmare Before Christmas.
Photobreak 2!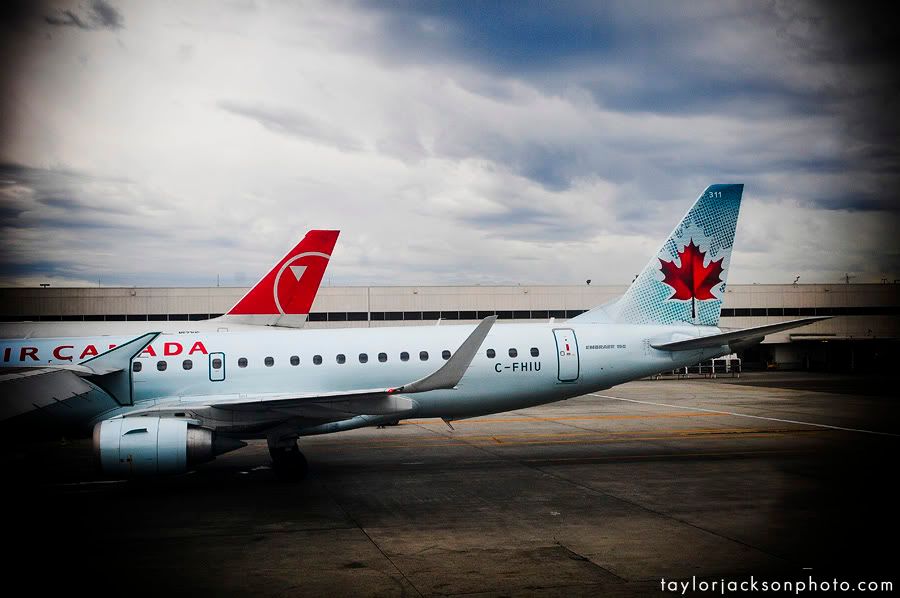 Everyone drives a brand new car here. Except those that drive original VW Bugs.
Everything is really spread out, and you need a car to get anywhere – except Carl's Jr, and Pollo Loco.
Pollo Loco sounds a little too much like a chicken version of Mad Cow.
Crazy Cow would be a better name for mad cow. Alleration makes bad things pleasant and humorous.
I really have no time for personal photography here, but I'm coming back in May.
We saw the Goodyear blimp hanging out on the ground.
To get to the plaza across the street, you have to cross the street 3 times.
The closest Quiznos closes at 7pm – even though 7pm here is 10EST, we're always 10 minutes late to get there.
Wendy's in California looks 100% identical, inside and out, to Wendy's in Waterloo.
I have an overwhelming desire to drive through Compton on my way back to the airport. Thanks NWA.
If I had a million dollars, I would buy you a monkey. Haven't you always wanted a monkEY?
So yah, that's about it for now. I'm off to photograph some advanced-visualization-3D-immersive-virtual-reality-simulation rooms. Which should be nice and tricky to portray on a still 2D photo. I'd show you the results, but it's classified and whatnot. Much like everything else I'm doing here. Although, I am allowed to blog a few images I've taken here in late April..just have to wait for the public launch of the Network Operations Center. (Center, not Centre. I checked my spelling and grammar at the border)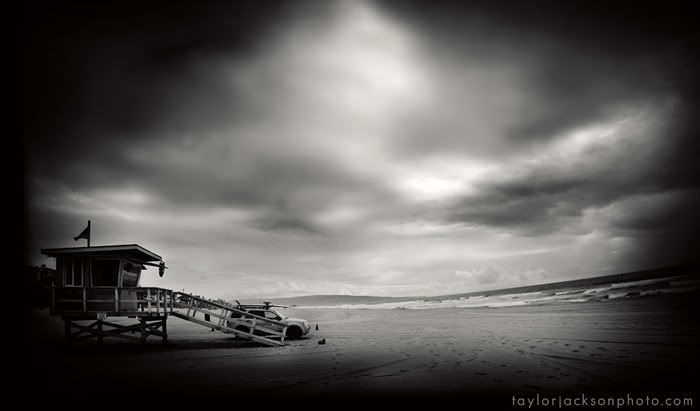 Manhattan Beach California
BONUS END OF WEDNESDAY SPECIAL!
Ever seen the movie Who Killed The Electric Car?
Today I met up with one of the guys that leased an electric mini van, only to have it ripped away from him at the end of his term.
For those that haven't seen the movie – more or less here it is:
In the late 90s/early 2000s all the major car manufacturers had entirely battery powered cars on the road in California. If you live anywhere else in the world…you probably didn't even hear about this. You were not supposed to.
It was a car you'd plug in at night, and unplug in the morning, like a cell phone. They had a ~ 150 mile range, which is more than you'd ever drive on a daily basis, ran entirely clean, for pennies a day in hydro. They were not a whole lot more than regular cars to lease, but required 0 gas. Because there was no internal combustion happening, under the hood it was clean, and not a whole lot could go wrong. Basically, once you bought the car, you were done with paying into it. Maybe change the break pads and tires every few years, but there was no service required.
Then all those cars were revoked at the end of their lease (everyone begged and pleaded to buy it out, but they wouldn't let you). They eventually flattened all of the electric cars, and covered it up.
Why you may ask? Well… big oil has a lot of pull in North America — and the car companies would have to redesign their entire infrastructure. The service department would pretty much disappear..jobs, etc. I'm certain the car companies could deal with it, but oil and gas companies would go extinct in a hurry.
The car companies blamed the halt in production of these vehicles due to a 'lack of market.'  They decided that the market wanted bigger cars, and GM purchased the Hummer franchise shortly after(same day even?) pulling all the EVs off the road.
Their fear was that you'd ride in one, and want one.
So eventually Chevron (oil and gas) 'bought out' the battery the cars were using, and refused to license it out to anyone.
So yes, completely electric cars existed, they stolen back from the owners, flattened, and likely buried in the desert somewhere. Probably because of big oil.
Anyways, watch the movie. It's good. Then give the movie to all of your friends. It's not a conspiracy story per se…because it actually happened.
Larry (electric car owner that I hung out with today) knows everything about this (since well…uhh, he testified on behalf of electric cars) and it was really neat to hear about his experiences with trying to keep his electric car.
Larry also took Arlonna (marketing associate) and I on a mini tour of the Pacific ocean front. First we stopped at Manhattan Beach, and visions of the movie Blow came back to me. Not a lot looks to have changed, and I had an eye open for George Jung and Tuna.
From there we headed up the coast to Venice Beach. Back at the turn of the century the idea for Venice beach was to make it a canal community, so that's what they did. Eventually they paved over the canals and made city streets..though they did leave a few.
I'm now sitting at the Radisson, 9th floor, overlooking the tarmac at LAX. Flight home tomorrow AM.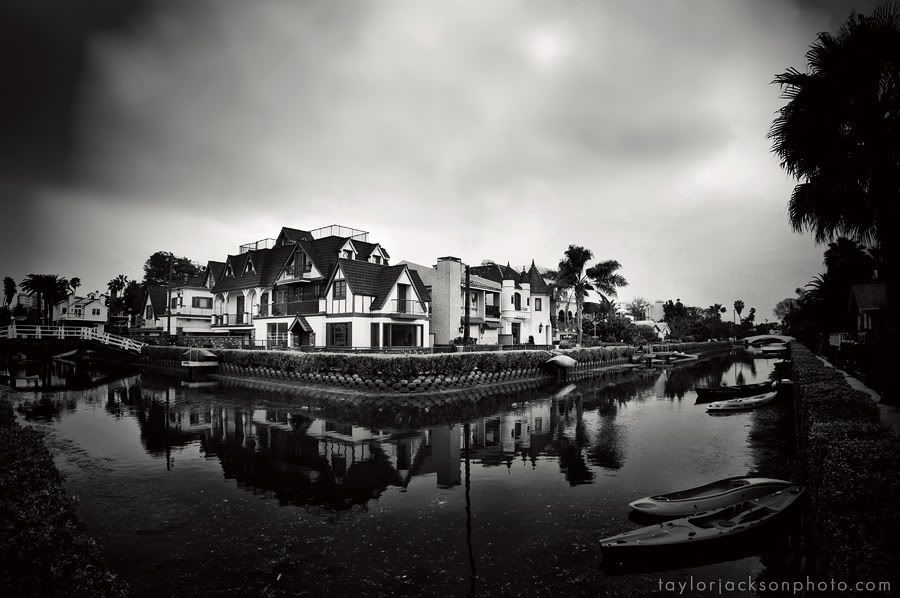 Venice Canals, California.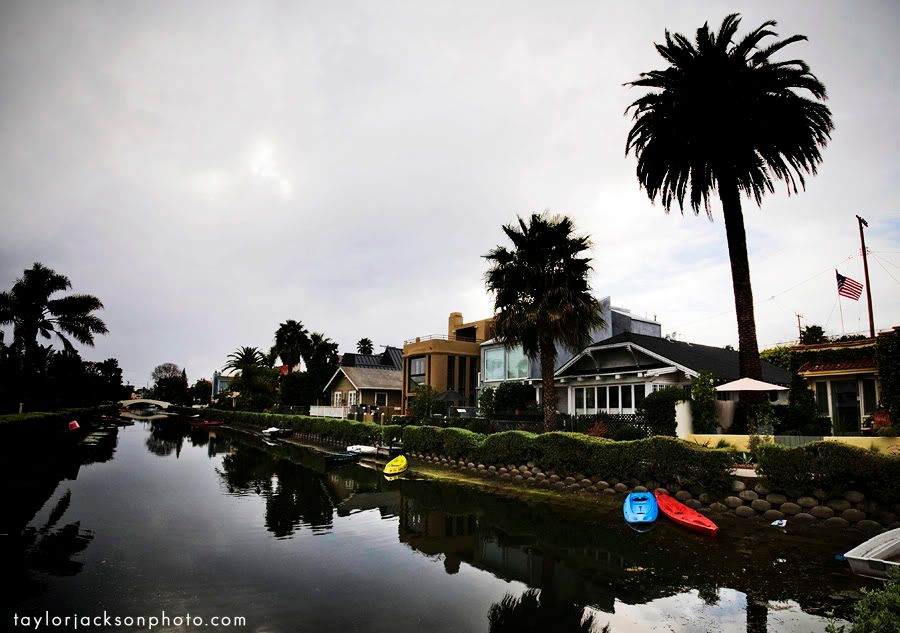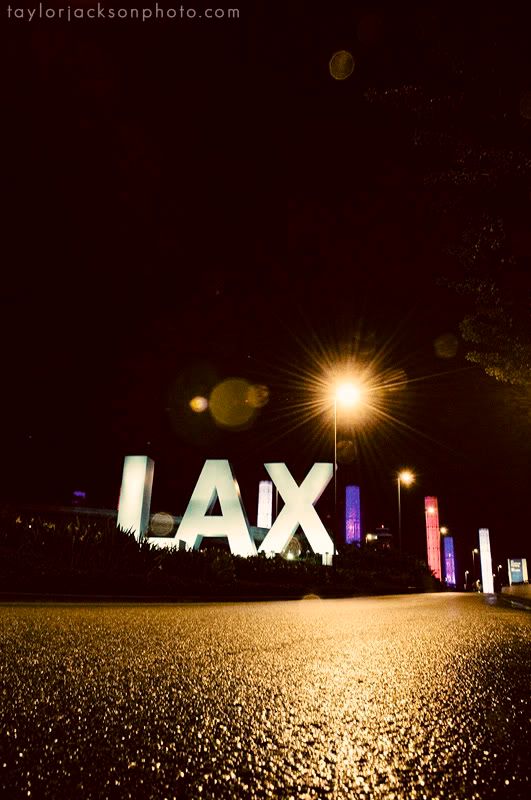 LAX..currently looking down at this sign while typing.
March 5 edit:


Mountains on the way home